Do you know
It's an immense pleasure that Dayananda Sagar International School has won one more feather to its crown and has proved itself by bagging All India Award
"India Merit Awards"
By Education Today for top ICSE School Ranked No 1 in Co-Curricular Education on 11th March 2022.
The celebration Continues. ..........🎼🎺🎸💃💃💃💃🙏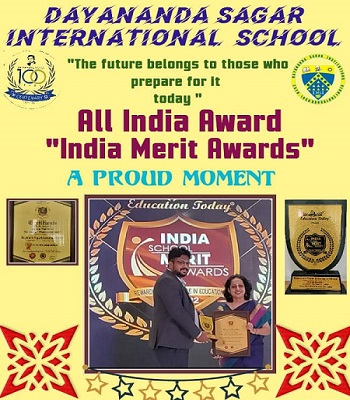 ---
Prodigy Premiere league winners 2021-22
---
India's top ICSE schools
It's a proud moment to be part of Education India Survey and DSIS has been Ranked No.1 under the category "India's top ICSE schools parameter wise"
The same has been published in EDUCATION TODAY MAGAZINE
---
Fit India School
It's a pleasure to inform that Dayananda Sagar International school has been certified as one of the Fit India school by Fit India sports association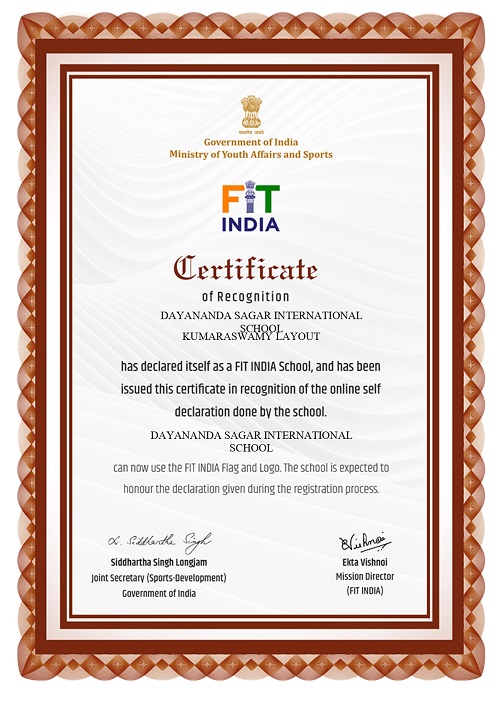 ---
Teachers Award Ceremony by IIHM
As quoted by *DARWIN D MARTIN*
"_A teacher's job is to take a bunch of live wires and see that they are well grounded_".
It was indeed a proud moment for teachers of DSIS who were awarded for recovering and revitalizing education for covid generation on Sept 5th 2021 on the occassion of Teacher's Day by *Indian Institute* of *Hotel Management*
_Congratulations_ to all the teachers who were awarded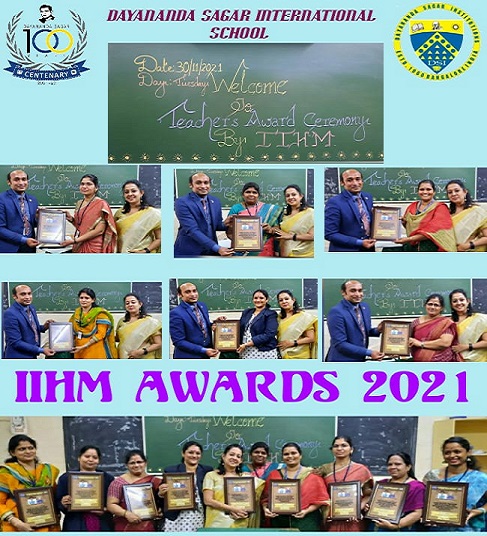 ---
Best Teacher Award- 2021
Every year IIHM felicitates teachers on "Teacher's Day" for their exemplary work.This year DSIS 9 teachers were nominated and it's an honor that DSIS 9 teachers were awarded with "Best Teacher Award-2021"
Congratulations to Team DSIS.
---
Best Math Teacher Award
Our School Teacher Mrs. Shobha Srinivas attended a workshop and qualified to get the Best Math Teacher Award with 3rd Rank.
The workshop was Bangalore Math Game-a-thon organised by Prodigy Education hosted from 5th August, 2021 to 14th August, 2021.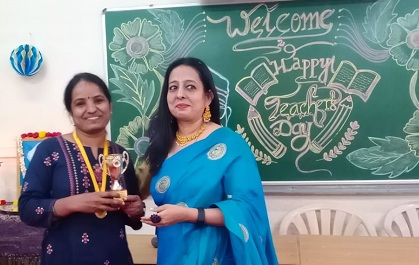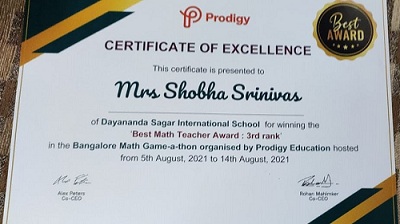 ---
---
Singing Competition.
Our school student Diganth from grade 6 is the winner of singing competition.
This was the competition which was sent from school to all the students.
Good going Diganth.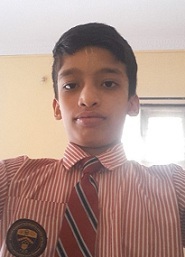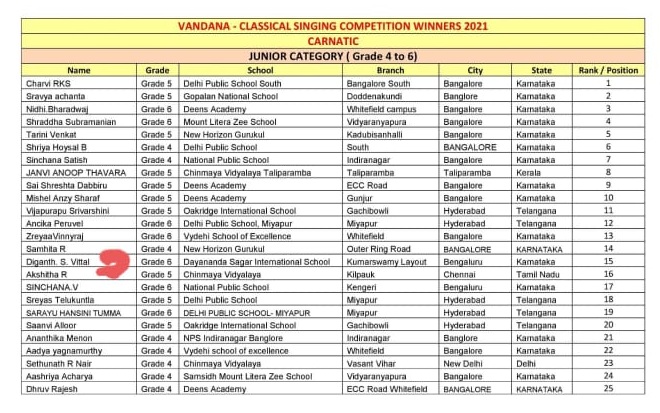 ---
Math Game-a-thon
Our student Master Mridhul S took 1st place in Math Game-a-thon organized by Prodigy Education
And Master Syed Saifan Ahmed of Class 5 took 3rd place in Bangalore Math Game-a-thon organized by Prodigy Education.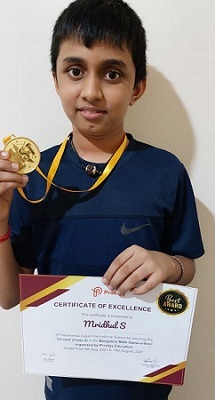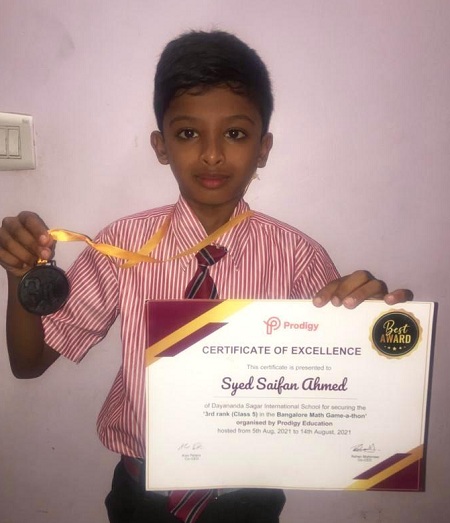 ---
GOLD Medal in THROWBALL
It's a proud moment to share with all that our Ex-Student *Kruthika V* (2014-15 batch) has won GOLD Medal in THROWBALL game in *4th National Championship 2021-22* organised by YOUTH ASIAN GAMES FEDRATION(INDIA).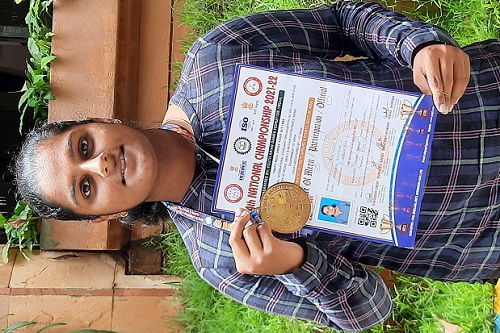 ---
Hybrid learning
Our School Teacher Mrs. Sridevi K R attended a workshop and qualified to get the certificate.
The seminar that we attended is from microsoft, 5 day workshop on hybrid learning where they trained us about different teaching platforms and apps like khaizala, kahoot, teams and their properties.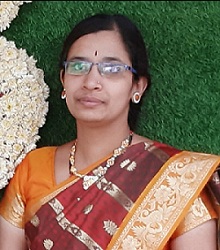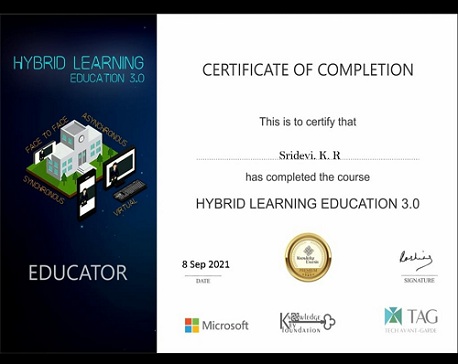 ---