Welcome to International School
Welcome to International School
Welcome to International School
Welcome to International School
Welcome to International School
Blue Day
Dayananda Sagar International School participated in Inter School Sports
Krishna Janmashtami
Brown Day
Blue Day
Orange Day
Purple Day
Green Day
Pink Day
Independence Day
Independence Day was celebrated with patriotic fervor and enthusiasm in the school. Principal Mrs. Varsha Jaideep unfurled the flag and the national anthem was sung followed by the parade. The principal spoke about the importance of the day, the suffering of the freedom fighters as well as the new amendments to the national flag.
The students delivered speeches, performed dances, and sang patriotic songs. The program concluded with a vote of thanks.
Science Exhibition
On 9th July '22, our school has organised a science exhibition "Resonance" - An inspiring journet through sound and light. The exhibition involved students from classes 1-10. The little hands along with their supportive teachers have shown how creative zeal they possess. The game zone, water rangoli, science cake, water candle are few to name.The event was open for all students and parents from 10am-12pm. We found proud parents walking in to witness the grandeur of the upcoming future. Our principal, Mrs. Varsha Jaydeep has enlightened the event with her valuable words. The timeless efforts of the teachers (especially the science day).
National Level Science & Slogan Writing Exhibition
"Every brilliant experiment, like every great work of art, starts with an act of imagination." – Jonah Lehrer
The students of Grade X of *Dayananda Sagar International School* got an opportunity to show their brilliance as young scientists. They tried to innovate Human safety gloves, Model of an Earth quake detectors, model of Hydraulic JCB, Electro magnetic Induction, a Mini air cooler and many more. Children were excited to take part in the National level Science Exhibition on Innovative Projects and Slogan Writing Organized by Dayananda Sagar Pre University College on the occasion of World Environment Day on June 5th 2022.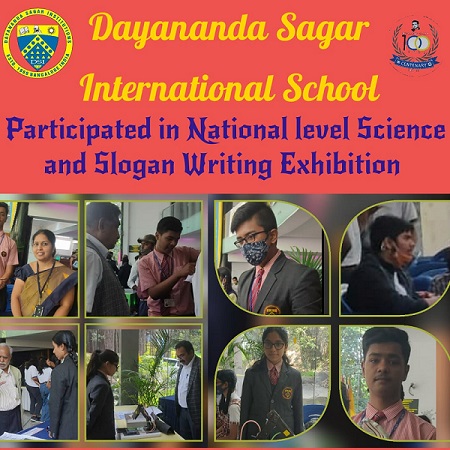 Father's Day Celebration
"It is a wise father that knows his own child".
Father's Day is a special day of every child to celebrate their first hero.
On this occasion Dayananda Sagar International School has created a platform in school premises to increase the father child bonding.
School has organized T-Shirt making, Musical Chair and other games for both father and children from Kindergarten section. Both of them involved themselves in these games supporting each other. The celebration was with positive response from parents. Principal Mrs. Varsha Jaideep spoke about the importance of the day. The ambience was decorated with balloons and charts. All nursery and kindergarten teachers have put their efforts to make this a memorable event for the children.
Open and click on any book and someone will read a story to your kid or grandchild.