National Youth Day
Đo You Know
"The great secret of true success, of true happiness, is this: the man or woman who asks for no return, the perfectly unselfish person, is the most successful."
― Swami Vivekananda
National Youth Day
Swami Vivekananda was a great philosopher and a man of wisdom who strongly believed and spread the message of "Vasudhaiv Kutumbakam" to the rest of the world.
The aim behind observing 12th January as National Youth Day is to educate people especially youth of the country.
The Government of India In the year 1984 decided to celebrate the 12th January i,e birthday of Swami Vivekananda as National Youth Day
The Union Government observed that the philosophy of Swami Ji and the ideals for which he lived and worked could be a great source of inspiration for the Indian Youth.
Swami Vivekananda was a Youth Icon and his teachings are still guiding youth to make a greater nation.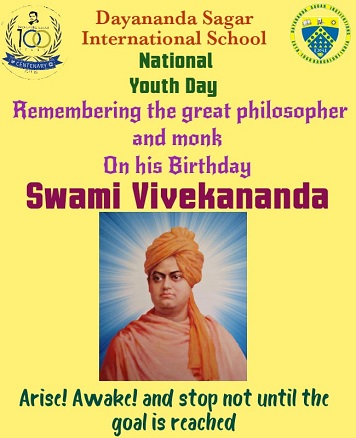 DSIS Vaccinated
Vaccination drive
Dayananda Sagar International School has successfully conducted covid-19 vaccination drive on 10.1.2022 in the campus for 15 year old students.

Virtual classes with more *FUN* and *PARTICIPATION*
Animal sounds.......
In English period kids of class 1 enthusiastically took part in making the sounds of different animals wearing the mask.
The class was full of fun.
Making the class enjoyable and lively.
An initiative to make online classes enjoyable.

Rangoli and Logo design Competition
*Congratulations to all the winners of the competition!!!* Here we put together the amazing rangoli and logo designs done by our students that showcase their brilliant ideas and awe inspiring creativity.

"Azaadi kaa Amruth Mahotsav"
75th Independence day
Virtually celebrated, children enthusiastically expressed their patriotism through, speech, song and dance.
Wishing you all a very happy Independence Day.
Let us join hands to work hard to make our country better.
Proud to be a Bharathiya
"Jai Bharatha"
Orange Day
Orange is a Dynamic colour that stimulates Courage and Strength.
"Be like an ORANGE, as a FRUIT, It's JUICY One, As COLOUR it's the HAPPIEST "
Sagar Chicks in Orange Radiated, Warmth and Happiness, combining the virtual energy, both Teachers and kids were in a harmonious shades of orange colour.
The Activity was based on the theme "VOWELS" in reinforcing the concept of Orange colour and creating a cognitive link among the learners.
The kids enjoyed a lot and it was indeed a pleasure to witness little ones dressed up in orange bubbling with energy and fascination.

Parent Orientation Program
Parent Orientation was conducted on 19 th August 2021 for Grade X.
Highlights of the Orientation were:-

Upcoming Board Exams
Re-opening of School
Project Submission
Smart Learning
ROCK BAND Classes
Learning challenges for the kids.🕺🕺🚶🏻‍♀️👯‍♀️
Virtual classes with more FUN and PARTICIPATION.🎤🎹🎼🎺🪗🎸ROCK BAND..........
In English period
ROCK BAND class for kids of class 1, was filled with fun and frolic with musical instruments. .
Musical instruments were displayed and few kids played and enjoyed the sounds of music. Making the class enjoyable and lively.
An initiative to make online classes enjoyable.
The celebration continues..........🎸🪗🕺🎺🎼🎹🎤👯‍♀️💃💃

Green Day
"Green is the colour of life, nature, and energy"
"Green is the prime colour of the world"
Green day was virtually celebrated at Dayananda Sagar International school on Friday 9th July 2021.
Started with nature walk in campus, showing green plants and trees, children were dressed up in green. Students enjoyed green objects and charts showcased by the teachers'.
"Every thing is green and clean"
Green colour carries the vibration of growth, new beginning, renewal, health, harmony, hope, and peach.
Go Green stay safe stay fit !

Blue Day
BLUE is the sign of trust, wisdom, confidence and intelligence. Kindergarten students of DSIS celebrated Blue Day on July 2nd 2021. Students enjoyed the day with colorful activities and songs. There was a lot of joyfulness and enthusiasm among the students and teachers.
Rainy Day
The little ones from UKG enjoyed the rainy day activities and showcased their creativity in the form of drawing. Through their drawing they also portrayed how the rainy season gives a soothing relief from hot and humid climate.

International Yoga Day
Theme for the International Day of Yoga 2021 is "Yoga for well-being". Being a pandemic year we saw the same zeal and enthusiasm among the students and teachers. A well-organized Yoga day by the team DSIS was appreciated by all the parents.

Independence Day Celebrations
Environmental Day
First Day
Library
Sports
Raksha Bandhan
Red Day
Be a Part of Our Researches
Be a Part of Our Researches
Best Placement Opportunities
Build Your Dreams At DSI
DSI Beyond National Boundaries
Graduation With Best Learning
Nurturing The Champions
Opportunities Beyond Expectations
Our Proud Launches
Prominents Visits to DSI
The Proud Moments At DSI